BEHIND THE D.O.R.R. - JUNE 2020 ISSUE
Here it is June already.  I don't know about you, but for me the month of May literally just flew by.  While we still continue to deal with COVID-19 across the Nation here in Ohio we have started to open up our state slowly while we try to get used to the new normal.  We still have orders through July 1 to continue with the social distancing and no gatherings of more than 10. 
But enough of all that. Let's have a little fun.  I'm curious as to what all of you did during the shelter in place quarantine to keep yourself entertained? Please share your stories in the comments below. We will choose the best story submitted and the winner will receive a CD, and t-shirt. I will announce the winner in the next issue of Behind The D.O.R.R.
I'll start with my story, and share what it was that I did to keep myself occupied.  I decided I was going to learn how to play piano / keyboards.  This is something I have always wanted to learn, but just never found the time.  Well now I had all the time in the world. I downloaded an app called "Simply Piano'.  I knew absolutely nothing about piano except that each key made a sound and if paired correctly a beautiful song emerges. This app actually syncs with your piano and knows every note you play (or don't play).  At the end of each lesson the app provides songs to practice the new skills learned within that lesson, and you must successfully master playing those songs before advancing on to the next lesson.  In order to keep track of my progress I would periodically record myself playing in order to help improve my skills. The video below was recorded at exactly two months after starting my lessons, and I was actually playing the song by reading sheet music, and using the metronome (ticker) to help keep time.  I actually managed to amaze myself.  Never thought I would ever be able to do that, and yet here it is.  
KUDOS TO SONGWRITERS STEVE PROBST AND MARY LYN BATES
Please help me in congratulating these two songwriters on their newest song that was forwarded to a Nashville, TN music publisher looking for songs for a CMA nominated act.  The song the two of them wrote together is a little different style from what we are used to hearing from Steve,(in a good way) He put a little "country swagger" into this hip hop flavored country tune.  Click on the link below to hear this newest song.  
https://soundcloud.com/steveprobst/so-cadillac-batesprobst
WE ARE NOW BOOKING DATES INTO 2021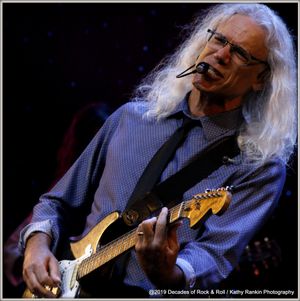 We are now starting to think about our 2021 calendar and are starting to fill dates for Steve Probst as either a solo act, or with the full band.  If you would like to host a House Concert with Steve Probst just contact me at 740-438-0382 or fill out the form at: https://decadesofrockandroll.com/house-concerts 
No event is to big or to small.  If you are looking for entertainment for your next event, or fundraiser, or just looking to get together for a fun evening with family and friends give us a call.  Steve would love to come and play for you.  We have several package options available to fit all budgets.  Just click the link above for more information on what a House Concert is, and how it works, or feel free to give me a call at 740-438-0382.
2021 DECADES OF ROCK & ROLL® CRUISE
We would like to personally invite all of you to cruise to the Mexican Riviera February 27 - March 6, 2021 with Phil Dirt & The Dozers; McGuffey Lane; Hotel California 'A Salute To The Eagles'; Steve Probst Band; Hadden Sayers Band; and John Schwab Party Band.  We will be celebrating our 15th year of doing this cruise.  An experience you don't want to miss.  Watch the video below and see what people are saying about this cruise.
Now's the time to sign up for this cruise and take advantage of the $1.00 Deposits; Free Gratuities; Up to $800 Shipboard Credit; and nothing else due until November 2020.  Reserve your spot today before this promotion goes away. Go to https://decadesofrockandroll.com/home
WIN A CRUISE FOR 2
Every year we give away a Cruise For 2 and the next cruise give a way winner could be you! We've already reserved your spot. It's easy to enter, and the best part is its free to do.   Simply go to https://decadesofrockandroll.com/home and join our mailing list and you'll be automatically entered into our drawing.  You must remain on our mailing list to be included in the drawing.  If you unsubscribe from our mailing list, you will automatically be removed from the drawing.
 VIDEO FEATURE OF THE MONTH
This months video feature was recorded on the 2020 Decades Of Rock & Roll® Cruise in February.  It was our Sail Away Dance Party with John Schwab Party Band featuring John Schwab, Molly Pauken, and Steve Probst. The song featured is  "Caribbean Way".  This song is dedicated to everyone who must endure the harsh winters in the North and decide it's time to get away...... "Gonna catch me a flight, without delay, hold that plane please, gotta get away.  Say goodbye to the winter, Hello Sunny Days, and that's how we'll do it, The Caribbean Way".
We certainly hope you've enjoyed this months issue of Behind The D.O.R.R. Be healthy and stay safe.  And until next time......BYE!