BEHIND THE D.O.R.R. - MARCH 2020 ISSUE
It is unbelievable how much things have changed since our last issue of Behind The D.O.R.R. Who would have thought that the entire World would be dealing with a Pandemic called COVID-19 aka "CORONAVIRUS". At this time  California, Washington, Louisiana, Ohio, and Connecticut are all on a "Shelter In Place" order which basically means we can only go out unless absolutely necessary.  Most of our entertainers we use are either based out of Columbus, Ohio or Los Angeles, CA area so for the time being we are all hunkered down in our homes but that doesn't mean we've all stopped working.  Most are Singers and Songwriters and plan to use this time wisely, to create some great music & songs so when the quarantine is lifted they will all be ready to do what they love to do and offer you all some fresh new music.  In "Times Like These" we need to remember "Together we'll be stronger" "Together we'll make it through" It is our promise to you that when this is through we will have a celebratory event at one of the Wineries and will feature John Schwab of (McGuffey Lane); Hadden Sayers of (Phil Dirt & The Dozers and Hadden Sayers Band); and Steve Probst of (Hotel California and Steve Probst Band) for a Singer/Songwriter event. We will let them share some of the new songs they have come up with, all while we sip some great wine. Sounds like an event you won't want to miss.  In the meantime I would like to share one of those new songs with you that John Schwab just recently wrote regarding "Times Like These".  "There's nothing we can't overcome, but only if we stand as one" 
"SOMETHING SUMMER" by Steve Probst / Penny Greene
NOW RELEASED WORLDWIDE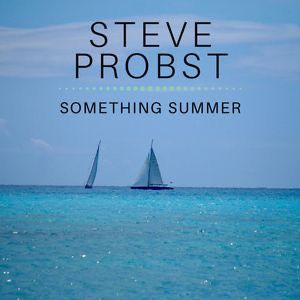 Steve Probst and myself co-wrote a song together called "Something Summer" and now we are very excited to announce that the song "Something Summer" has been released as a single, and is available Worldwide! We have this song on sale which can now be downloaded by going to ITunes, Amazon, CD Baby; GooglePlay; and Bandcamp.  To make it even easier, simply go to my website at DecadesOfRockAndRoll.com. Scroll down on the homepage until you reach the song cover and then click on one of the icons you wish to use for your download. OR, just click the picture above and it will take you directly to the site. Since we have no concerts happening anytime soon you can create your own concert by supporting these artists and download the music.  Then pour a glass of wine, and dance like nobody is watching.  Oh wait a minute.  They won't be watching.  We are all quarantined.  Even more reason to take advantage of our sale, and download your copy today.  After you do drop us a line and let us know how you like it.  
Album Notes: Something Summer is a song from the "archives" where most of its tracks were already recorded by Steve Probst, but never saw the "Summer" light of day.  After a lyric touch-up and re-write with the talents of Penny Greene, it appears in a promotional video for her highly successful 'Decades Of Rock & Roll' Cruise and now "Something Summer" is released Worldwide!
All vocals and instruments performed, recorded, and mixed by Steve Probst.  Music created by Steve Probst.  Lyrics by Penny Greene and Steve Probst.  Cover Photo Credit:  Kathy Rankin.
CRUISE NEWS
We had so much fun on our 2020 Decades Of Rock & Roll Cruise we are going to do it again marking our 15th  consecutive year doing this cruise. The date is February 27 - March 6, 2021.  We will be featuring Phil Dirt & The Dozers; McGuffey Lane; ; Steve Probst Band; Hadden Sayers Band; and John Schwab Party Band with the possibility of a few other entertainers, as we set sail to the Mexican Riviera. Through out the weeks ahead we will continue to monitor the latest news for COVID-19 updates from the CDC and other official sources because our top priority is the safety and well-being of the people from the various states and communities we service. As of now it is our hope and prayers this will all be behind us and we will set sail once again.  
Current promotions going on right now for this cruise in 2021 is unprecedented.  Through the end of the month receive the following:
- Only .50 cent deposits per person (total of $1.00) to hold cabin a cabin with nothing else due until September 
- Up to $800 free shipboard credit
- Free Gratuities
If you would like to secure your spot do it now as we wait this virus out.  You have nothing to loose.  Just call (740) 438-0382 or visit our website at DecadesOfRockAndRoll.com  
2020 DECADES OF ROCK & ROLL CRUISE 
I would like to start out by publicly thanking all those that helped make the 2020 Decades Of Rock & Roll Cruise the success it was.  I would like to thank the following:
- Kathy Rankin - Our Photographer.  She did an amazing job all week long capturing all the fun.
- My dedicated staff Peggy Fouts; Chuck Kasek; Rob Lech 
- Emcee Chad Frye
- Staff, Technical staff; Production/Lighting Crew; and Bar Staff on Royal Caribbean Adventure of the Seas
- John Schwab Party Band
- Hadden Sayers Band
- Steve Probst Band
- McGuffey Lane
- Phil Dirt & The Dozers
- All our guests who cruised and chose to spend their week with all of us
Here are a few pictures capturing some of those memorable moments.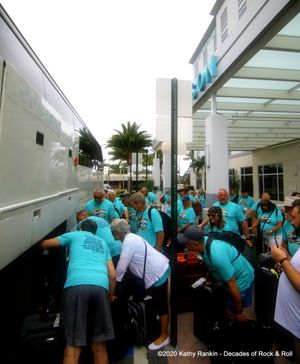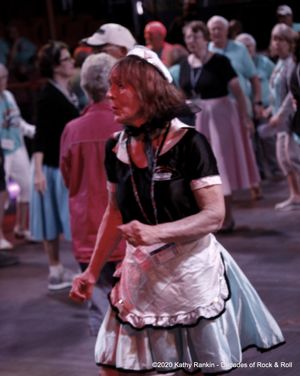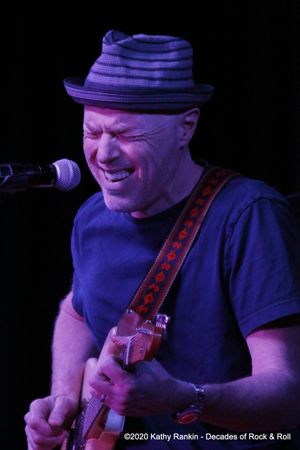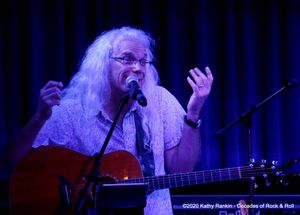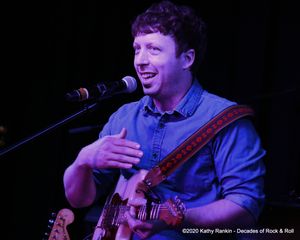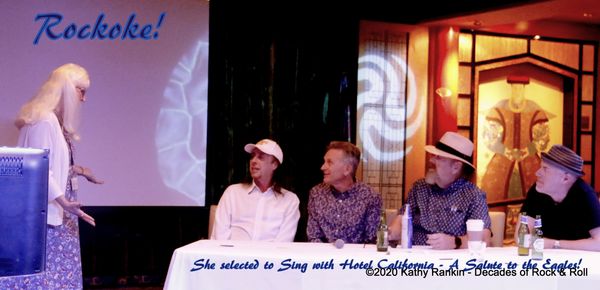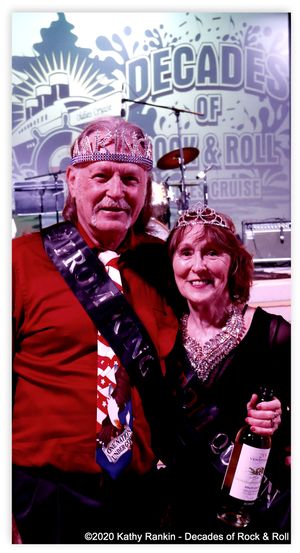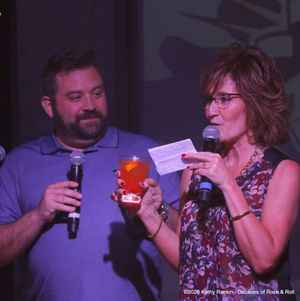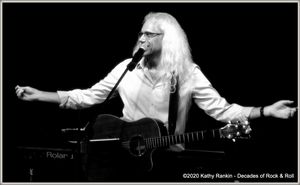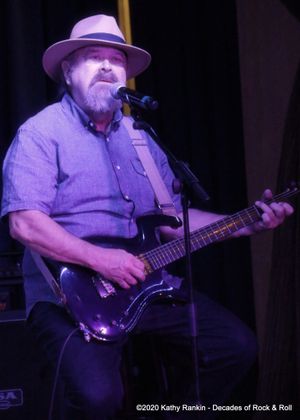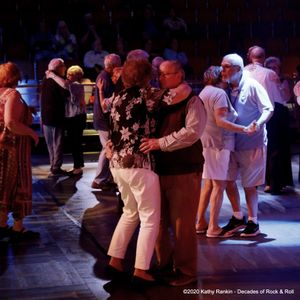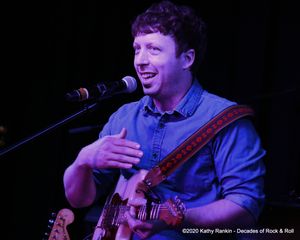 THE ENGAGEMENT
We had a very special moment while on the cruise.  Peggy Fouts and Chuck Kasek got engaged.  And She said YES! Congratulations to these two love birds.  They are talking about the possibility of maybe getting married on the 2021 Decades Of Rock & Roll Cruise.  It certainly wouldn't be the first time we've had a wedding during our cruise.  We seem to attract wedding ceremonies,  however its been a few years since our last wedding so I think its about time for another one.  Don't you?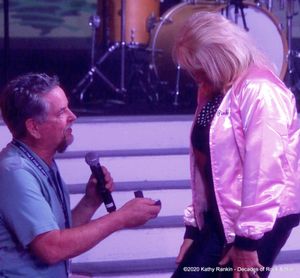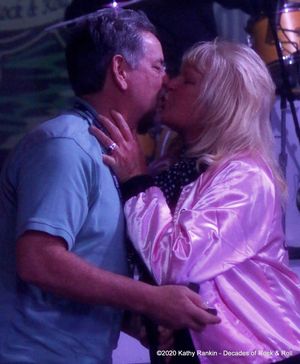 VIDEO FEATURE OF THE MONTH
The video feature of the month features a young man who was on our 2020 Decades Of Rock & Roll Cruise.  Jared Mahone is a Singer/Songwriter and he wrote the song you are about to hear.  If we gave out awards he would have definitely won it with this one.  Prior to singing the song He proceeded to tell the story behind the song.  He had lived in West Virginia while going to college and he had met a lot of really nice people. And one of the couples he had met was an older couple named Joe and Betsy.  Joe & Betsy were married going on 57 years and so he wanted to tell their story the best he could through this song.  It is the most beautiful heartfelt song performed on the cruise.  Not a dry eye in the house.  I hope you enjoy it as much as everyone else did.
That is all we have for now.  We certainly hope you've enjoyed this months edition of Behind The D.O.R.R. Please be safe and stay healthy.  Until next time.....bye!