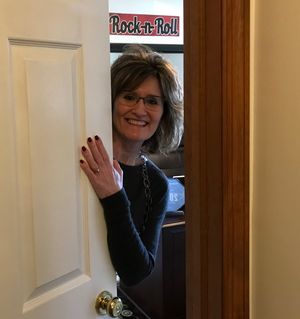 BEHIND THE D.O.R.R. - September 2020 Issue
We hope that everyone has stayed safe and healthy throughout the summer.  We certainly have missed seeing all of you this summer when all the live performances were put on hold.  We are chomping at the bit to get back on the road, but only when it is safe for everyone to do so.  The health and safety of all our fans, guests, and entertainers is very important to all of us here at Decades Of Rock & Roll Cruise.  And because of that we have been closely monitoring, and staying up to date with all the news pertaining to COVID-19, the situation of all the closures from the Cruise Lines, as well as the recommendations coming from the CDC in order to open back up the cruising industry, festivals, fairs, theaters, and performing arts centers.  
Right now the Cruise Lines are actively working on solutions and new health guidelines that will be implemented and put into place in order to regularly begin sailing. The CDC has a "No Sail" order in place here in the United States set to expire on September 30, 2020.  It is unknown if the CDC will allow this order to expire, or if they intend to extend the "No Sail" order.  Most of the major cruise lines have already extended and cancelled cruises on their own until December 15, 2020.  This is mainly in part due to the many travel restrictions imposed on the United States.  Most of the cruising ports have closed their borders to the United States.    
We spoke directly with our representatives at Princess Cruise Lines, as well as the representatives at Royal Caribbean Cruise lines.  Both cruise lines stated they were anticipating being able to resume sailing in the early part of 2021. Their plan is to start out very slowly with just a few of their fleet going out for 3-4 day sailings, and provided that goes smoothly they will begin introducing more ships and longer itineraries until they are back to normal cruising capacity.   
After being given that information we made the very difficult decision to postpone our February 27, 2021 Decades Of Rock & Roll Cruise until a later time.  The fact that most of our cruisers fall into the "High Risk" category for COVID-19 we just wasn't comfortable in continuing the plans to sail in February. Everyone's health and safety is just too important to all of us.  I can guarantee that when this is all over we will have a huge Cruise Reunion Celebration!  That is something we can all look forward to.  
In rescheduling the next Decades Of Rock & Roll Cruise we took into account the travel restrictions imposed on the United States with the many ports of calls we had to choose from.  The cruise lines felt that the Caribbean was going to open back up much quicker than places like Europe, Mexico, or Canada. As much as we were all looking forward to cruising the Mexican Riviera we did not want to risk having to postpone and reschedule once again.  So we went to work trying to find a location everyone would be  happy with.  And to my surprise we actually found one.  
The New Rescheduled Date for the Decades Of Rock & Roll Cruise is March 18-27, 2022 leaving out of Miami, FL on Royal Caribbeans Explorer Of The Seas going to:
Labadee, Haiti 
Oranjestad, Aruba 
Willemstad, Curacao 
Kralendijk, Bonaire 
Our entertainers joining us will be Phil Dirt & The Dozers; McGuffey Lane;  Steve Probst Band; Hadden Sayers Band; and John Schwab Party Band. Anyone wishing to join us please call 740-438-0382 or sign up on our website at DecadesOfRockAndRoll.com.  All our guests who were signed up for the 2021 Cruise was automatically moved over to the 2022 Decades Of Rock & Roll Cruise.  Because of this we are already half full.  A $500 deposit is required at the time of booking with nothing else due until September 2021.   
We are looking very forward to resuming our annual Decades of Rock & Roll Cruise in 2022 and want to thank everyone for your patience and understanding during these unprecedented times we are all experiencing.
VIDEO FEATURE OF THE MONTH
This month we have decided to feature our brand new and updated 2022 Decades Of Rock & Roll Cruise Video. Many of our past cruisers are featured in this video so look closely and you just might see yourself in the video. The song on the video "SOMETHING SUMMER" was written by Penny Greene / Steve Probst and is available for download on iTunes and Amazon.  Or you can download it direct from their websites at DecadesOfRockAndRoll.com or SteveProbst.net. So be sure and download your copy today. If you think this cruise looks like fun and would like to join us on the 2022 Decades Of Rock & Roll Cruise then just give us a call at 740-438-0382 or visit DecadesOfRockAndRoll.com. 
We certainly hope you have enjoyed this issue of Behind The D.O.R.R. Until we see you again please be safe and stay healthy. Until next time....bye!